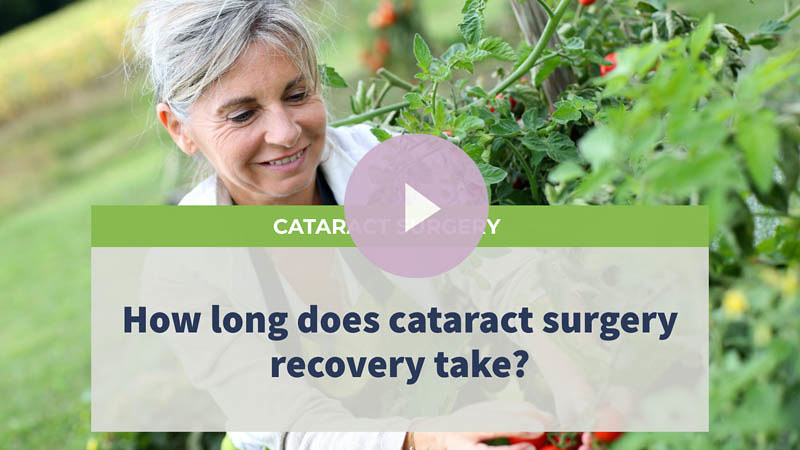 How long does cataract surgery recovery take?
The recovery after cataract surgery is often much smoother and quicker than you might expect or anticipate. On day one or two, your vision might still feel a little fuzzy or less clear, but I would expect that within a few days, you'll start to see that clarity and sharpness return. Some grittiness or irritation is common. We'll give you eye drops after the surgery to help your eyes settle in the best way possible after cataract surgery.
Now occasionally, you may feel a little dryness that persists for a little longer, perhaps a few weeks. That's not uncommon at all. We'll advise you to use some dry eye drops, which are very freely available. These will help to keep yours lubricated, smooth and as comfortable as possible.
We will see each other at our post-operative checks. Here we can talk about how your eyes are settling and what we can do to ensure that they recover in the best way possible.
Booking an appointment online couldn't be easier. It provides you with a range of options, times, dates, and locations whereby you and I can meet, and I can better understand your needs, wants, and desires. We can have that discussion and agree on a way forward for you to maximise the potential that your eyes can give you. You'll regain that clear, bright, vibrant life and be able to enjoy all the things that you deserve.
Share This Post
MBChB MBA FRCOphth FRANZCO
Consultant Eye Surgeon
I'm your guide to better vision. Sadly, in today's climate of long post-lockdown waiting lists and uncertainty around treatment options, many people aren't getting the clear and personal service they deserve. This can leave you feeling frustrated and anxious about the quality of your vision and unsure about the best way to move forwards. I'm here to show you that there's a way to beat the surgery queues and move forward with your life. After all, you're an individual, not a number. Every one of my patients is treated with the utmost care to ensure they get the exceptional results they desire tailored to their unique needs and lifestyle. After treatment, you'll reclaim the clear, colourful and rich life you deserve. So what are you waiting for? Stop waiting and start living!