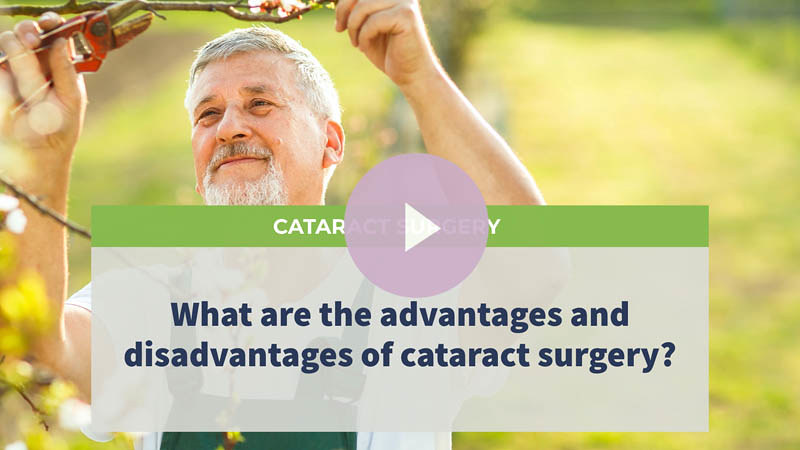 What are the advantages and disadvantages of cataract surgery?
The clear advantage of cataract surgery is that it can improve your vision to its maximum potential. And by doing so provides you with that confidence, that freedom, that ability for you to enjoy your life the way you deserve to. In terms of the disadvantages of cataract surgery, it does involve making that sometimes difficult decision to undergo an operation. I understand how anxious and how concerned anybody can be about their eyes. Your eyes and your vision is just so precious. But that's why I'm here to be with you on that journey to guide you through that process so we can improve your vision and improve your life so you can start living once again.
Many people don't know of all the cataract surgery options that might be available to them. The cataract quiz only takes a few minutes. It provides you and me with a really good indication of what treatment might be appropriate to you. It will be the first step that you could take to take charge of your life.
Stop waiting and take those first steps to start living.
Share This Post
MBChB MBA FRCOphth FRANZCO
Consultant Eye Surgeon
I'm your guide to better vision. Sadly, in today's climate of long post-lockdown waiting lists and uncertainty around treatment options, many people aren't getting the clear and personal service they deserve. This can leave you feeling frustrated and anxious about the quality of your vision and unsure about the best way to move forwards. I'm here to show you that there's a way to beat the surgery queues and move forward with your life. After all, you're an individual, not a number. Every one of my patients is treated with the utmost care to ensure they get the exceptional results they desire tailored to their unique needs and lifestyle. After treatment, you'll reclaim the clear, colourful and rich life you deserve. So what are you waiting for? Stop waiting and start living!