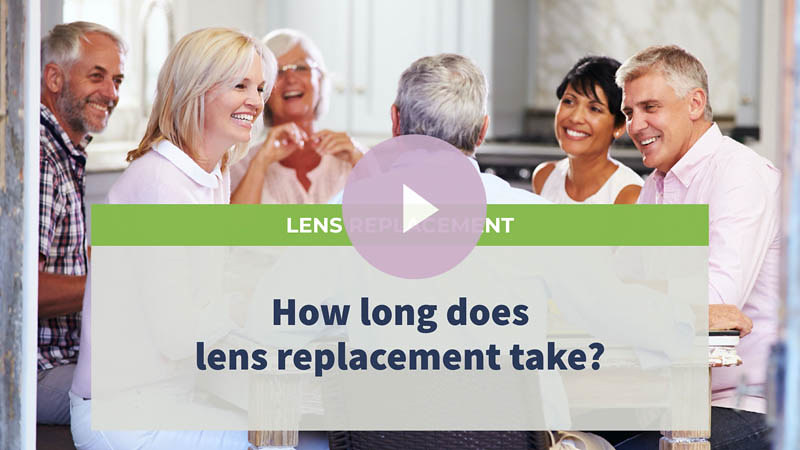 How long does lens replacement take?

Dr. Nguyen illustrates the average lens replacement surgery procedure and what it entails.
The lens replacement surgery in itself is swift, safe and painless, and takes no more than 15 minutes.
On the day of surgery, you will be with us for a couple of hours in the morning or afternoon. This visit encompasses the entire process; the warm welcome in the hospital facility, consideration of your wait time, and admission by our friendly team.
I will talk to you about the procedure and reassure you of concerns or queries you might have. The surgical process itself is a small aspect of this process and will be over before you know it.
After this, you'll be back in your room with a nice cup of tea and a biscuit, looking forward to your improved vision and your new lease of life.
Getting in touch couldn't be easier. Give us a call on 019 7859 6301, and we can help you take that first step and book an appointment. Here we'll be able to meet to gain a better understanding of your needs, your wants, and desires. Together, we can make the decision to change your life.
Share This Post
MBChB MBA FRCOphth FRANZCO
Consultant Eye Surgeon
I'm your guide to better vision. Sadly, in today's climate of long post-lockdown waiting lists and uncertainty around treatment options, many people aren't getting the clear and personal service they deserve. This can leave you feeling frustrated and anxious about the quality of your vision and unsure about the best way to move forwards. I'm here to show you that there's a way to beat the surgery queues and move forward with your life. After all, you're an individual, not a number. Every one of my patients is treated with the utmost care to ensure they get the exceptional results they desire tailored to their unique needs and lifestyle. After treatment, you'll reclaim the clear, colourful and rich life you deserve. So what are you waiting for? Stop waiting and start living!