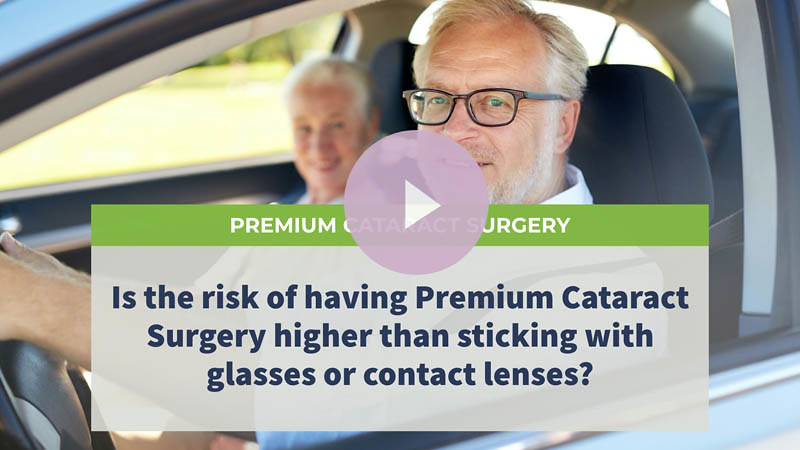 Is the risk of having cataract surgery higher than sticking with glasses or contact lenses?
There is risk in anything we do in life. When we step out that door, get into the car, or meet up with friends, we face risks. It's about judging that risk and the potential benefit. 
Wearing spectacles or contact lenses are not without their potential risks. 
Cataract surgery or lens replacement surgery is an operation that carries an element of risk. However, it is one of the safest surgeries that I've seen in all my years as a surgeon. 
At your appointment, we can discuss the potential risks to ensure you feel comfortable and confident about taking your next steps. 
A lot of people don't know about all of the options that are available to them. The cataract surgery quiz only takes a few minutes. It provides you and me with a really good indication of what might be the best option for you.
Stop waiting and start living with better vision. 
Share This Post
MBChB MBA FRCOphth FRANZCO
Consultant Eye Surgeon
I'm your guide to better vision. Sadly, in today's climate of long post-lockdown waiting lists and uncertainty around treatment options, many people aren't getting the clear and personal service they deserve. This can leave you feeling frustrated and anxious about the quality of your vision and unsure about the best way to move forwards. I'm here to show you that there's a way to beat the surgery queues and move forward with your life. After all, you're an individual, not a number. Every one of my patients is treated with the utmost care to ensure they get the exceptional results they desire tailored to their unique needs and lifestyle. After treatment, you'll reclaim the clear, colourful and rich life you deserve. So what are you waiting for? Stop waiting and start living!